Programme 2021-2022

It is essential that you book your place in advance for each event.

18 November 2021

MARK AUSTIN,
Conductor and Independent Scholar

Isolation Reading in 1944:
Richard Strauss, the complete works of Goethe and Metamorphosen

Throughout his life an admirer of Goethe, Richard Strauss re-read the complete Propyläenausgabe in 1944 while Germany was ravaged by war. One of the few works he composed in this period was Metamorphosen, a study for 23 solo strings, usually considered an elegy for Germanic culture with its quotation from Beethoven's Eroica inscribed "In Memoriam". The discovery of Strauss's musical setting of a short Xenion by Goethe, 'Niemand wird sich selber kennen', amidst sketches of Metamorphosen, has been taken as definitive evidence of the influence of Goethe, but this has not been satisfactorily elucidated, nor related to the listener's experience of the work as a whole. This talk considers Strauss's relationship with Goethe, investigates the multi-layered significance of the Metamorphosen, and offers a fresh reading of the work as it approaches its 75th anniversary.
3 February 2022
6pm, online event

Prawer Lecture

ANHAD ARORA (OXFORD)

Fanny Mendelssohn's 'Divan'

This lecture is preceded by the Society's Annual General Meeting, to be held online from 5pm.

The lecture, illustrated with musical examples, will explore Fanny Mendelssohn's settings of poems from Johann Wolfgang von Goethe's West-östlicher Divan (publ. 1819), virtually reuniting manuscripts at the Staatsbibliothek zu Berlin and the Bodleian Library in Oxford. The first half of the lecture will centre around the six settings composed in 1825. Mendelssohn, Arora will argue, takes an idiosyncratic approach to musical narrative, dividing the six settings into two groups of three. Arora will then turn to 1836, to her setting of 'Ach, um deine feuchten Schwingen'. It appears in an 1844 'Stammbuch', compiled by Felix, with an illustration of Suleika by Wilhelm Hensel. The book also features an illustration for her published setting of 'An des lust'gen Brunnens Rand'. What did Mendelssohn see and hear in the Divan? And what can her multi-media settings tell us about how the Orient and the Divan were clothed in song?

Attendance free; advance online booking required.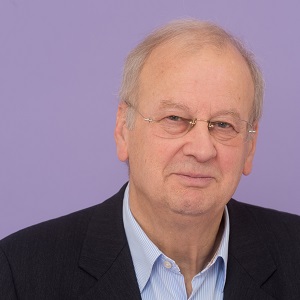 10 March 2022
5.45pm, online event

Wilkinson-Willoughby Lecture

WOLF LEPENIES (BERLIN)

"Incredible, that's Literature!" Attempts at Re-moralizing Politics, Academic Disciplines, and the Profession with the Help of 'Belles-Lettres
In 1945 The German Mind and Outlook was published, a resumé of discussions about the future of Germany that English intellectuals had had in 1942 and 1943. They hoped that the Germans would be able to correct the moral depravity the Nazis had led them into – with the help of Goethe. Re-vitalizing Goethe's humanism, the cultural nation would be reborn and would be welcomed again in the community of nations. Attempts at re-moralizing politics with the help of literature will be one topic of this talk; using literature to re-introduce morality into the social sciences will be the second, and it will conclude with a look at programmes to educate professional 'moral leaders' by turning them into readers of 'belles-lettres'.

12 May 2022
5.45pm, online event

RICARDA SCHMIDT (Exeter)

Himmelstraum, Alptraum, und "träumerische Verwechslung des geistigen und leiblichen Genusses": Schattierungen und strukturelle Funktionen des Traummotivs in E.T.A. Hoffmanns Kater Murr

In Hoffmanns Kater Murr wird viel geträumt: Menschen und Tiere haben sowohl Nacht- als auch Tagträume. Der Vortrag will die Verflechtung des Romans in die theoretischen und intertextuellen Traumdiskurse seiner Zeit und die Art und Weise untersuchen, wie Träume zur Charakterisierung der Protagonisten oder für die Kohäsion des Romans eingesetzt werden.

Steven Bramble, Portrait of E.T.A. Hoffmann (reproduced with the artist's permission)
Einige Nachtträume vermitteln, der romantischen Anthropologie folgend, eine Teilhabe des träumenden Individuums am Kosmos und ein dem Individuum auf rationalem Wege nicht erklärbares Wissen, das die spätere Romanhandlung antizipiert. Gleichzeitig wird die romantische Traumtheorie jedoch ironisiert, indem deren Vertreter durch den Kater Murr eingeführt werden, der vorgibt, sie gar nicht gelesen zu haben. Viele Tagträume dagegen fungieren als Mittel psychologischer Charakterisierung. Träume vermitteln ein Kaleidoskop an Emotionen: Sie können spukhaft, süß, leer, seltsam, närrisch, betörend, böse, verhängnisvoll, schwärmerisch oder selig sein. Sie verbildlichen oft Sehnsüchte, die durch die Diskrepanz zwischen banalem Inhalt und hohem Ton der Satire preisgegeben werden und Leser*innen eine 'träumerische Verwechslung des geistigen und leiblichen Genusses' vorführen.


30 June 2022
5.45pm, online event

Ida Herz Lecture

Friedhelm Kröll (Nürnberg)

'Erkundung des Dunkels' – Thomas Mann liest Freud

Spätestens im Zauberberg wird Thomas Manns Freud-Lektüre sinnfällig, und zwar in der für ihn charakteristischen Weise eleganter Einverwandlung von Lesefrüchten.

Doch nicht dem Erzähler sondern dem Essayisten soll die Aufmerksamkeit gelten. Hat doch der Lübecker Epiker der Psychoanalyse und ihrem Wiener Stifter zwei eindrucksvolle Essays gewidmet. Mindestens drei Schlüsselmotive der Psychoanalyse Freudscher Prägung sind es, die das poetische sowohl wie selbstanalytische Interesse Thomas Manns in Bewegung gebracht haben. Da ist einmal die Anerkennung der erotisch grundierten Eigenmacht des Unbewußten; da ist sodann die Einsicht in die Ambivalenzen der Welt und Unterwelt der Gefühle; und da ist schließlich die Ausleuchtung des Spannungsverhältnisses zwischen Eros und Thanatos. (Im übrigen bereits präludiert im
Tod in Venedig
.)
Um mit Namen zu sprechen: Beide, Sigmund Freud und Thomas Mann, haben von Schopenhauer und Nietzsche gelernt. Beide haben die Früchte ihrer Lektüre je in ihrem Metier, der eine als Arzt und der andere als Erzähler von oberstem Rang, schöpferisch verwertet. Sie stehen in einem kongenialen Verhältnis zueinander, der 'Entzauberer' aus Wien und der 'Zauberer' aus Lübeck.
Please
REGISTER here
.